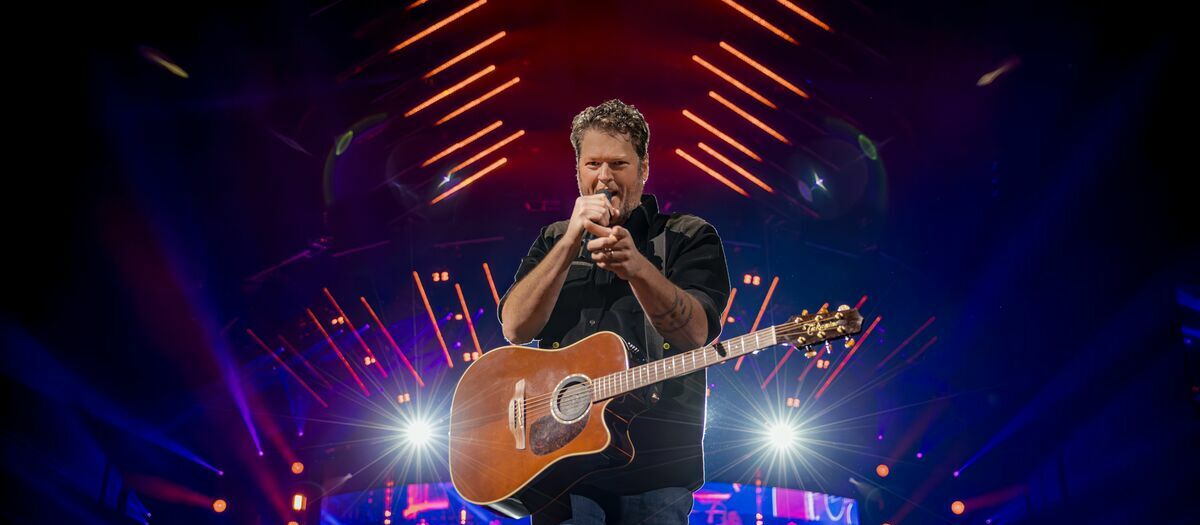 Blake Shelton Tickets
Millions of Customers Served
Low Fees & Transparent Prices
The fans have spoken
"I love how easy and fast the website works. They have some of the lowest prices around."
"Very easy to use. There's no hidden fees so you know exactly how much each ticket is."
"Thanks SeatGeek for making this event the greatest experience I have ever had. Next time I need tickets I will be calling you, you made a customer for life."
Blake Shelton Details
Blake Shelton
Singer, songwriter, and television personality, Blake Shelton, won fans' hearts with his debut single, "Austin", released in 2001 with his self-titled debut album. An instant hit, "Austin" spent five weeks at number one on the Billboard Hot Country Songs chart. The album went platinum, producing two more top twenty hits, "All Over Me" and "Ol' Red". Since then, he's been unstoppable, with over twenty number one hits, seventeen of which were consecutive number one hits.
Blake Shelton's studio albums have been met with quite a bit of success, all reaching the top ten on the US Country charts. His albums, "Red River Blue" (2011), "Based on a True Story" (2013), "Bringing Back the Sunshine" (2014), "If I'm Honest" (2016), and "Texoma Shore" (2017) all hit number one on the US country charts. Blake Shelton has a worldwide fanbase, selling over ten million records worldwide as of 2017.
Blake Shelton has been nominated for more than one hundred awards throughout his career, winning more than ninety. He has won several Country Music Association Awards, including Male Vocalist of the Year in 2010, 2012, 2013, and 2014. He also won Entertainer of the Year in 2012. He was inducted into the Grand Ole Opry in 2010, and the Oklahoma Hall of Fame in 2014. In 2017, he won the Billboard Music Awards Top Country Artist and the NATPE Best Reality Personality.
Blake Shelton Concert Setlist
Blake Shelton has several hits that fans cannot wait to hear at his concerts, and Blake Shelton loves nothing more than to make his fans happy. His debut single, "Austin", makes the setlist, reminding fans of why they fell in love with his smooth voice and heartfelt lyrics in the first place. The heartfelt love song, "God Gave Me You", is another one that fans can't wait to hear, and Blake Shelton loves to hear his fans sing along. Known for connecting with his fans on a deep level, "The Baby" is a tearjerker that Blake Shelton brings to the mic time and again, showing his prowess as a musical storyteller and taking his craft straight to the heart. But Blake Shelton isn't all love songs and blues. Two of his most fun, light-hearted song make the setlist as well. After all, it wouldn't be a Blake Shelton concert without the ever-popular, "Some Beach", and the always amusing, "Ol' Red", about a twitterpated prison guard dog who thought he found love at the worst possible moment.
Blake Shelton in Concert
Blake Shelton knows how to connect with his fans. With a very down-to-earth, countrified sense of humor, his fans are treated to amusing segues between songs that make Blake Shelton even more relatable than his songs. Blake Shelton has loads of personality, connecting with the fans from the front row all the way to the back with ease. His concerts are fun and filled with great music and great times for his fans as they sing along with his most popular hits.
Blake Shelton Tour Dates
See below for a list of Blake Shelton tour dates and locations. For all available tickets and to find shows in your city, scroll to the listings at the top of this page.
| Date | City | Venue |
| --- | --- | --- |
| 03/21/2019 | Uncasville, CT | |
| 03/22/2019 | Uncasville, CT | |
| 03/23/2019 | Albany, NY | |
| 06/08/2019 | Columbus, OH | |
| 07/21/2019 | Paso Robles, CA | |
| 08/17/2019 | Foxborough, MA | |