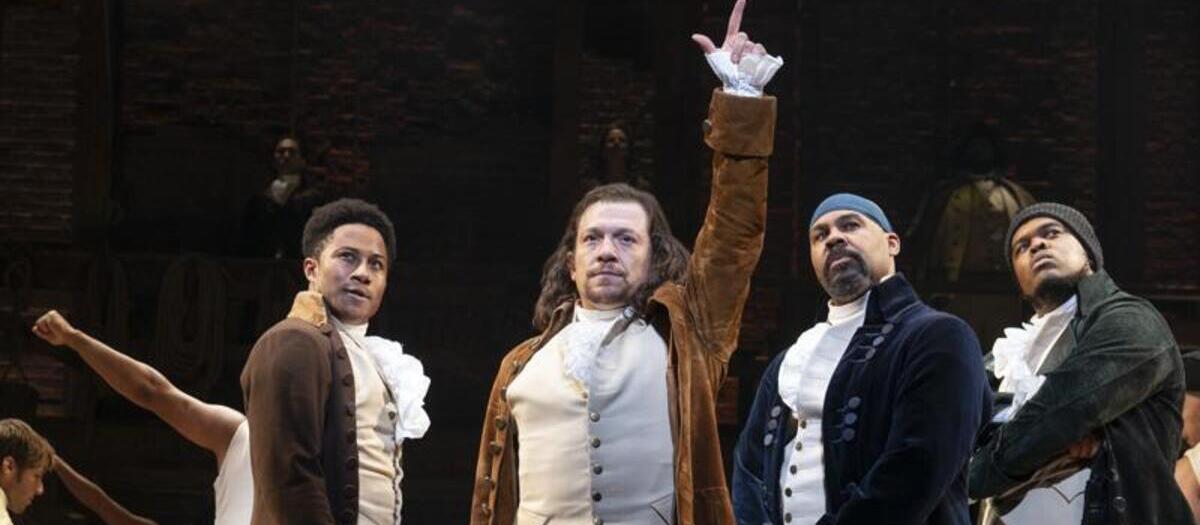 Hamilton Tickets
Millions of Customers Served
Low Fees & Transparent Prices
Hamilton Details
Inspired by the 2004 biography Alexander Hamilton by Historian Ron Chernow, Hamilton has been a runaway success since it opened at The Public Theater and shows no signs of slowing down. Opening off-Broadway in February 2015, Hamilton was transferred to Broadway on August 6th, 2015 after previewing on July 13th, 2015. This critically acclaimed, box office success received a record-setting 16 Tony Award Nominations in 2016, winning 11 awards. Hamilton also won a Grammy Award for Best Musical Theater Album that same year, and the 2016 Pulitzer Prize for Drama.
While this Broadway sensation is based on historical events, Lin-Manuel Miranda did take some creative liberties when writing this musical and the accompanying book. Among these is the timing of the duel between Hamilton and Aaron Burr, which is moved up to fit the production's timeline. That being said, history buffs are sure to enjoy Hamilton, which follows Alexander Hamilton's life from an early age until his death, but focuses on the American Revolution and the founding of the United States.
Javier Muñoz takes over the title role in the current production, which was originally played by Hamilton's writer, Lin-Manuel Miranda. This isn't the first time that Javier has stepped into a role after Lin-Manuel, and as before, he fills the role effortlessly. Both men are thrilled to reunite after working together on In the Heights, a Tony Award-winning musical created by Miranda. An integral part of Hamilton since its early development in Public Theater, Muñoz commands the stage as Alexander Hamilton. This veteran performer has several credits to his name, including The Porch, Two Gentleman of Verona, and Into the Woods.
Making his Broadway debut playing both James Madison and Hercules Mulligan, J. Quinton Johnson landed his first major film role while still a student at the University of Texas. This past year, he has completed work on the musical version of Dirty Dancing for ABC and on the upcoming AMC series, "The Son." Known for his rich, soulful voice, his raw and emotive rapping is a testament to his versatility and impressive musical talent.
Television, Film, and Broadway powerhouse Mandy Gonzalez lends her unique talents to the character Angelica Schuyler. While Mandy has appeared on "Quantico", "The Good Wife", Wicked (Broadway) and Aida (Broadway), she is best known for her emotional portrayal of Nina Rosario in the original cast of the Tony Award-winning In the Heights. Mandy's powerful voice brings chills, and her performance of "Satisfied" is absolutely flawless.
Hamilton Show Dates
Currently playing at the Richard Rodgers Theatre, Hamilton does not have a closing date at this time. Tickets sell out quickly, so make sure you buy them as early as possible. In addition to its shows at Richard Rodgers Theatre, Hamilton is also playing in Chicago and Los Angeles. More cities and dates are expected to be added in the 2018-2019 tour season.
Hamilton Ticket Prices
Hamilton ticket prices on the secondary market can vary widely depending on the location, day of week, season, and other factors. Tickets can be had for as low as a couple hundred dollars for some shows, and upwards of $500 for others.
Hamilton Target Audience
Hamilton is geared towards adults, but the show is suitable for ages 12 and up. Younger children may have a hard time following the content, though mature children as young as 10 will also enjoy this witty retelling of the life of Alexander Hamilton and the Founding Fathers. As with any Broadway production written with adults in mind, parents are encouraged to use their best judgement, as the show does deal with the topics of infidelity, political scandal, and Hamilton's death.
Hamilton Runtime
Hamilton's official runtime is 2 hours and 45 minutes with one intermission, but it tends to run slightly longer. Allotting 3 hours to enjoy the show is usually a safe bet.