Florida State Football Sells Out Season Tickets
Florida State has one of the more heralded college football programs in the last 25 years, but most of that reputation was rooted in the team's two national championships during the 1990s. Going into the 2013 season, the team was counting on the hope brought to town by freshman quarterback Jameis Winston to deliver them beyond the ACC title scene and into the National Championship picture for the first time in 15 seasons. Winston and the rest of his teammates delivered, defeating Auburn in the BCS title game and reinvigorating a fan base that had grown weary of a decade's worth of mediocrity. And just like that, a crowd of garnet and gold rushed the box office to secure their seats for a return conquest of the Atlantic Coast and beyond.
Across the board, ticket prices are up 60% from 2013; fans had paid an average of $80 per ticket for Seminoles home games through mid-June last year, but that figure is up to $129 per ticket for the upcoming season. This can be partially attributed to the strength of Florida State's home schedule this season, featuring games against Clemson, Florida, and Notre Dame, but prices for early-season home games against non-conference opponents have also increased by 11% from last year's totals. Games in 2013 against Nevada and Bethune-Cookman drew a combined average price of $44 per ticket, while tickets for this year's Citadel game are reselling for $49 apiece.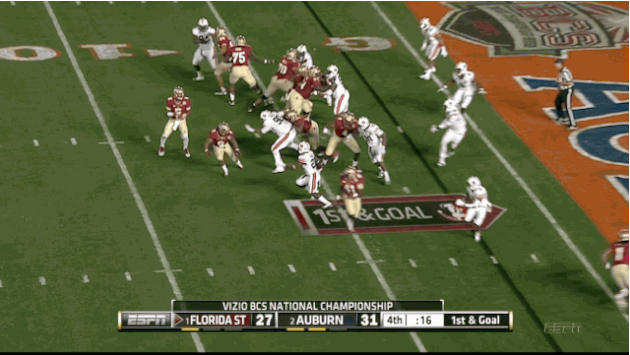 At $256, the average ticket price for the highly anticipated Notre Dame-Florida State matchup is the highest for a Seminoles home game since SeatGeek began collecting data in 2010. Home games against Florida ($190) and Clemson ($136) are the 3rd- and 6th-highest-priced contests, respectively, in the same time frame. Before this upcoming season, last year's game against Miami had been the priciest FSU home game we'd recorded at an average price of $206 per ticket.
The secondary market for FSU tickets has been the most active in the country so far this year, meaning that more tickets have changed hands for FSU home games than for the home games of any other school in the nation. About 7,000 FSU tickets have been resold to this point, more than double the volume we saw through mid-June last year, when the Seminoles' secondary market was the 7th-most active in the country at an estimated total of 3,000 resold tickets. Following the FSU market for the 2014 season is Michigan; we've seen about 6,400 seats to Wolverines home games move on the resale market. After the FSU and U-M markets, there's a considerable drop-off to a pair of SEC schools – Alabama and LSU – which have each had about 4,500 tickets resold.
Florida State Seminoles Football Tickets
Ticket Demand for Florida State Seminoles Home Games
A new FSU season ticket package cost $305 for end-zone seats and $340 for sideline seats at face value. Purchasing the lowest-priced ticket for each Seminole home game on the secondary market, by contrast, would cost you $389 in total, making these season ticket packages good deals for fans who were able to get their hands on them. Earlier this week, FSU announced that full season ticket packages are sold out and that single-game tickets remain only for matchups against Citadel, Wake Forest, Boston College and Virginia.
The school is currently marketing a six-game season ticket package that excludes the Florida game; it's available for $240 per seat – plus a minimum booster donation of $60 – for a total of $300. Although the full season ticket package was a good deal relative to the secondary market, this six-game pack is actually more expensive than purchasing the cheapest seat available on SeatGeek for each of those six games. The total on the secondary market for the least expensive ticket to those six matchups is $279, a savings of 7% on the package from Florida State box office.
At an average of $129 per ticket, the Seminoles only have the 17th-highest-priced tickets on the secondary market, behind teams like Georgia, Syracuse, and Arizona State. Notre Dame home games, with an average price of $326, are currently the most expensive college football tickets in the country.
| Date | Opponent | Avg Price | Cheapest Ticket |
| --- | --- | --- | --- |
| 9/6/2014 | Citadel | $49 | $12 |
| 9/20/2014 | Clemson | $136 | $62 |
| 10/4/2014 | Wake Forest | $61 | $17 |
| 10/18/2014 | Notre Dame | $256 | $149 |
| 11/8/2014 | Virginia | $55 | $19 |
| 11/22/2014 | Boston College | $50 | $19 |
| 11/29/2014 | Florida | $190 | $110 |
Florida State Highlights – BCS Championship Season
Recent Similar Posts
Related Posts